MRS. UNIVERSE-PHILIPPINES 2010, ENGR. MURIEL MORAL-PANDI: OUR FIRST-EVER MRS. UNIVERSE-INTELLIGENCE WINNER
Written by: Nixon Canlapan  Published: May 1, 2012
EDITORIAL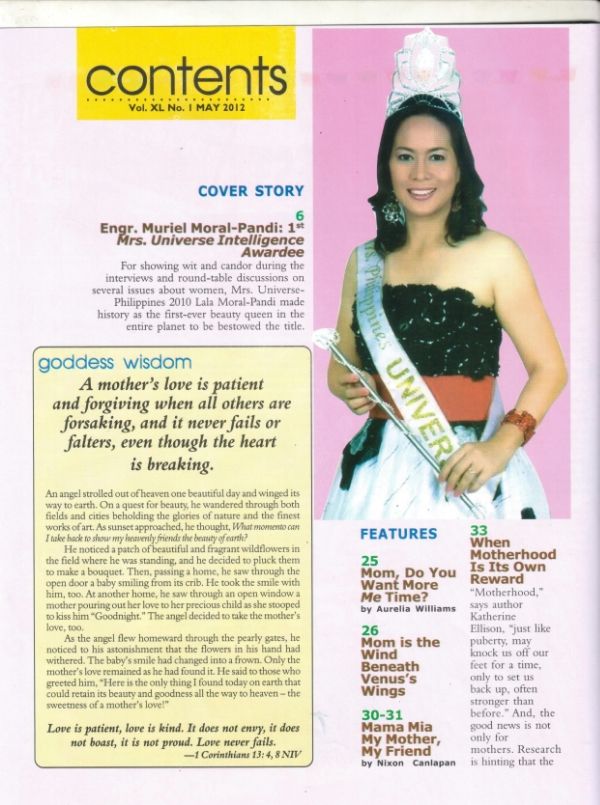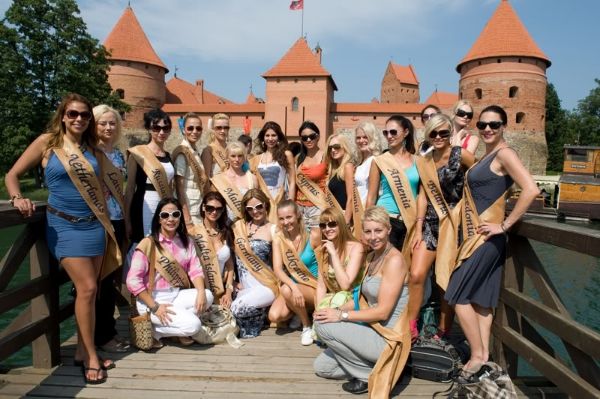 Some of the official candidates of the 2010 Mrs. Universe Pageant held in Lithuania
(in Europe). Mrs. Philippines, Engr. Muriel Moral-Pandi, is in pink, left, front row.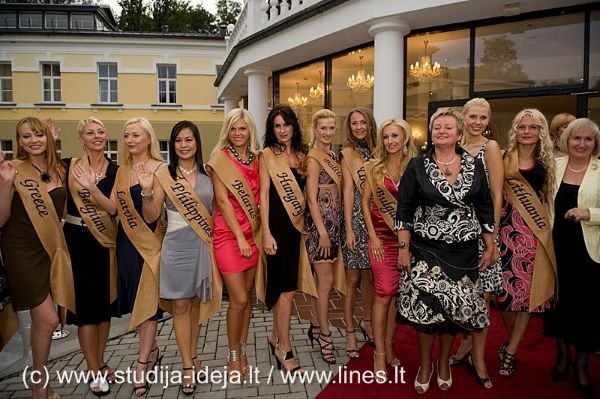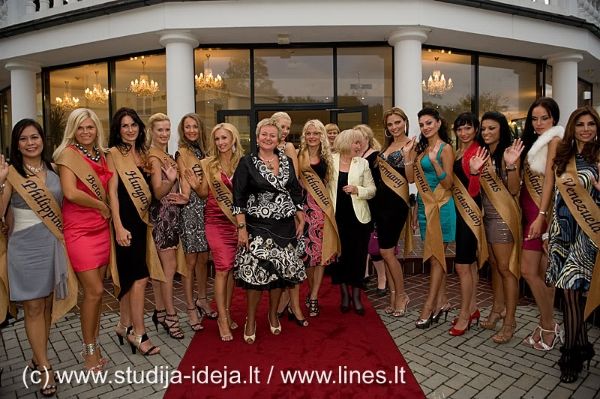 The 2010 Mrs. Universe Pageant International Press Presentation - The

Red Carpet

Scene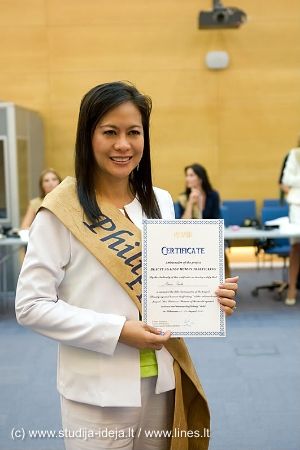 Engr. Muriel Moral-Pandi wins the first Mrs. Universe-Intelligence title and award.
     Her first crown may be considered a stroke of luck, but her second is a work of fate. When
Engr. Maria Muriel Pandi
nee
Moral
(or
Lala
, her monicker) walked on stage in
1988
to bag the
Miss Philippines-Maja International crown
, she had no inkling she would walk a similar path that gave her fame and name again in the future.
     Some 22 years after the glorious victory to the throne as one of the most beautiful Filipinas, she wowed the world when she was voted the most intelligent missus in the universe and was conferred the first-ever-awarded
Mrs. Universe-Intelligence
title. Thanks to the
Mrs. Universe Pageant
(
www.mrsuniverseltd.com
), Engr. Muriel Moral-Pandi gracefully rendered a human form to the two X-factors in a beauty contest--beauty and brains.
     Dubbed "
The Mother of All Pageants
," the
Mrs. Universe Contest
(
www.facebook.com/RealMrs.Universe
) is not only a major, international beauty-and-brains competition for married women, but profoundly, it goes beyond beauty and fame, as it's also known as
the noted quest for the most honorable Woman of the Universe.
And why not?
Its noble and worthy
,
universal cause and purpose are for the protection and welfare of women and children around the world
;
also
,
it celebrates married women
,
motherhood
,
and promotes good family values.
Candidates to this universal search must possess qualities reserve only to the matron of the house who believes in the sanctity of marriage and the power of family values.
     While she did not take home the bacon,
Muriel
got the slice of the fame pie by taking the Mrs. Universe-Intelligence title without sweat. For showing wit and candor during the interviews and round-table discussions on several issues about women,
Muriel made history as the first-ever beauty queen
/
woman in the entire planet or universe to be bestowed the title. No any major
,
international pageant or contest in history has awarded an Intelligence title yet--it's the very first time in the universe.
     The mother of two said she came to Lithuania (in Europe), the site and host country of the 2010 Mrs. Universe Pageant, prepared for the round-table discussion "where I had an excellent and comprehensive report about the human trafficking problems in the Philippines, which I believed impressed the judges."
     The Mrs. Universe-Intelligent said the second crown "gave me a better and wider outlook in life about the problems plaguing our women and children. And it has given me an opportunity to be of help to our society by making our young ones aware that human trafficking does exist. It also made me a better, bolder, and more caring person."
     While happy and honored at the same time for being chosen Mrs. Universe-Philippines, she was also "anxious about the big responsibility I had. I knew that I had to do my very best to make our country proud. And like before, I have to be a role model to my fellow women. Being the first ever to receive the title Mrs. Universe-Intelligence, I believe I made a notable, universal record, history, and distinction and, in my own little way, I brought and gave international/global prestige and honor to our beloved country (the Philippines)."
On Women's Journal, 23 Years Later
Engr. Maria Muriel Moral, then single, as Women's Journal Cover Girl (February 1989 Valentine's Issue)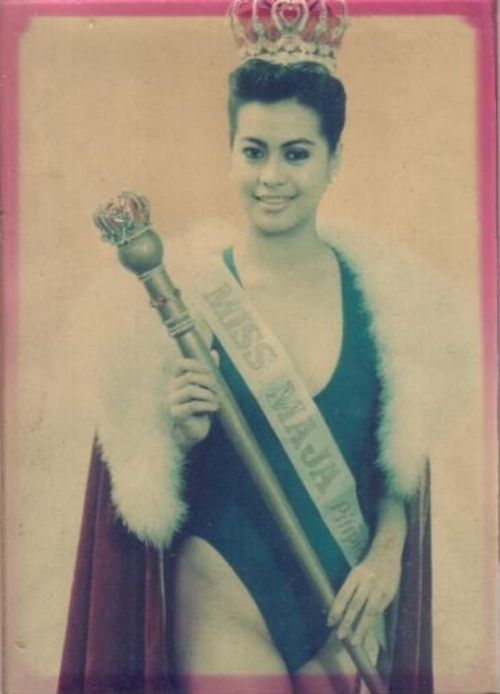 1988 Binibining Pilipinas-Maja International, Engr. Maria Muriel Moral

The 1988 Miss Maja International Official Candidates are waving before the local and foreign press photographers at the Bayamon Beach Resort in Puerto Rico. Some delegates such as Miss Russia, Miss South Africa, and Miss Brazil are not in photo. Miss Philippines Maria Muriel Moral is in red pants standing 7th from right.
Miss Maja Simpatica and Best in National Costume international awards winner at
the 1988 Miss Maja International (the global, Hispanic-inspired beauty competition
and pageant ) held in Puerto Rico
     Like her second crown and title as
Mrs. Philippines
, this is not the first time
Engr. Muriel Moral-Pandi
graced the cover of Women's Journal. "I'm excited to be on the front cover of Women's Journal again for this time, in the
May 2012 Mothers' (Day) Issue
of the magazine, I would be featured as our country's Mrs. Universe-Philippines and as the first-ever Mrs. Universe-Intelligence winner!" she said.
     Her first stint as Women's Journal cover girl was on
February 1989 (Valentine's Issue).
  "I was really eager, excited, and thrilled then for it was the very first time that I saw myself appeared on the cover of a leading and popular, national magazine in the Philippines! That Women's Journal issue taken during my reign as the
1988 Binibining Pilipinas-Maja International
queen and title holder (the year when I won the
Miss Maja Simpatica
and the
Best in National Costume
international awards) is now truly a precious souvenir or memento not only for me but to my family, relatives, friends, fans and supporters as well."
On Women Empowerment
     Representing intelligent women around the world,
Engr. Moral-Pandi
said women must be given equal opportunities with the male by improving and increasing their educational, social, spiritual, political and economic strengths, and giving them equal participation in the advancement and development of the communities."
     This is the same principle she had in mind when she was about to be grilled by the panel of judges in the Mrs. Universe search and the round-table discussions about the role of women in society.
     "Women have always been treated as the weaker gender and are dealt with as second-class citizens in the past which I think is very backward and primitive," she said.
     The civil engineer said women's role in nation-building today has reached the level "wherein we play very important and indispensable roles not just as homemakers but as career women who make a difference in our fields. We already have women in the different branches of government, although still outnumbered by men, but we can all agree that women's parts in nation-building are vital and essential."
     With former
British Prime Minister
"
Iron Lady
"
Margaret Thatcher
as her favorite woman icon, "because of her excellent leadership and firmness in decision making," she said, "a woman of substance is a woman from whom we can squeeze something good or great, may it be knowledge, ideas, affection, love, help, action and the likes. She's not just a woman full of frills and sophistication but someone you can really trust and depend upon, a woman of strong, good character who can go through harsh conditions and come out  stronger, smarter, and better."
On Family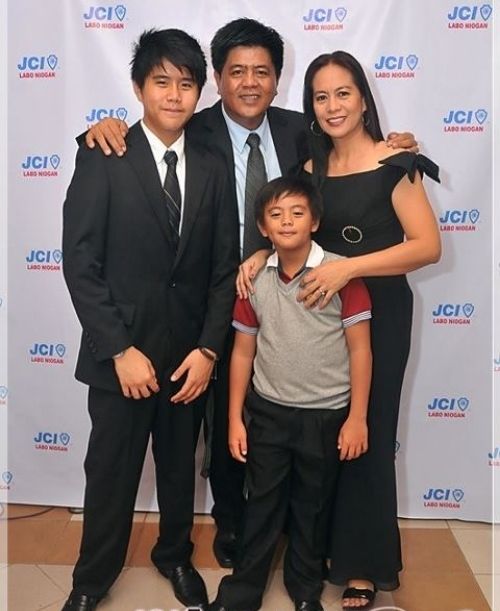 The Pandi Family: Dad Joeffrey and Mom Lala, sons Joram Jefferson and Jared Jullian.
     Our representative to the world of beauty and grace, said she has a "small" but happy family. Her husband
Joeffrey Pandi
is
a businessman
and
an elected board member of the provincial government of Camarines Norte.
She said her husband "is someone who stands firm on what he believes to be right and proper even in the midst of difficulties and in the flare of money. As a husband, he may not be perfect, but he can do his role. As a Dad, he is a loving father, provides for the needs of the kids, treats our children as his playmates and loves travelling with us."
     The couple is blessed with two sons
Joram Jefferson
, 15, who will be in his senior in High School this coming school year at La Consolacion College of Daet and
Jared Jullian
, 9, who will be in his fourth grade at the Labo Elementary School. She said both are budding politicians in their respective schools.
     "We are all into sports. Jef goes for cycling and target shooting, Joram is fond of volleyball and Jared loves soccer. I also bike when I don't have time to hit the gym. We all love contemporary music," she said.
     A time-conscious individual, the doting mother said
her motto in life
has always been "
family first
." This is the reason why she still finds time to be with her family despite her demanding job in the construction business where she oversees some infrastructure projects in Camarines Norte and other national agencies in the province.
     Aside from this, she also tends the family's copra business while attending to various tasks as
auditor of the Philippine National Red Cross
-Camarines Norte Chapter, and
adviser-member
(she was
a Past President
) of the
Junior Chamber International (JCI)
-Labo Niogan Chapter, and
secretary of the Philippine Institute of Civil Engineers
,
Inc.
-Camarines Norte Chapter.
On Beauty and Wellness
     Like wine that mellows with age,
Engr. Moral-Pandi
said age would have a hard time catching on her, "I have a very positive outlook in life."
     Even if there are times when "people or things don't turn out the way I want them to" and sometimes cause some stress "I don't fret or freak out, I just trust in the Lord that at the end of the day everything will turn out right for the good of everyone."
     To manage stress, she said: "I take some timeout, pause for a while and say a little, deep prayer. When it's too much a burden, I let myself shed some tears and when I'm done crying I come out stronger, smarter and better to face the adversity or whatever is in the way."
     To maintain her beauty, she said: "I always see to it that I sleep at least six hours every night, exercise, go for fruits and veggies, and healthy foods. I have with me cleansers and moisturizers with SPF all the time as my work at times entails me to be under the sun."
WOMEN'S JOURNAL PERSONALITY IQ:
If I could describe myself in one word, it would be
(resilient) because: I am flexible but tough and durable.
If  someone  asked  me  what  the  best thing about my life is, I would say
(it is being a mother to my kids) because: I would not exchange it for anything else, I love my children.
If I could change one thing about me, it would be
(my being apprehensive at times) because: I want to be more expressive and assertive of what I want when the occasion calls for. Though, I am the type of person who tends to give way to prevent and avoid unnecessary trouble.
If  I  could  repeat  one  memorable  experience  in  my  life, it would be
(my high school life) because: life then was easier, friends were true, things were done without malice and everything was simpler.
If  I  could do something right now, on the spur of the moment, and with no consequences, I would
(indulge in my favorite strawberry ice cream) because: I love strawberry ice cream but I can no longer enjoy it without affecting my blood sugar .
If I could exchange places with anyone right now, I'd exchange places with
(Jennifer Lopez) because: I admire JLo a lot and I want to experience how it is to have that great voice, that beautiful body and that flourishing career.
If I could solve one of the world's problems with one wave of my hand, I'd choose to solve
(hunger and poverty) because: when stomachs are full and people are contented and living comfortable lives, misunderstandings are avoided and crimes are prevented.
If a genie granted me three wishes, my wishes would be for
(my mom, my children and myself) because: I wish my mom will still enjoy a longer, healthier, and happier life despite her old age; I wish my children will grow up as loving, responsible and God-fearing individuals, and be successful in their chosen careers; and I wish to be able to accomplish triumphantly whatever undertaking God will give me.
If I could have a whole day to myself, I would
(read a novel of any of my favorite authors: Sidney Sheldon, Frederick Forsyth, Robert Ludlum, John Grisham, Danielle Steele) because: I find it hard to finish a novel in one day nowadays.
If I could give young people advice about dealing with their problems, I would say
(things do come to pass, so give it time to heal, to recover, to improve, to pull through) because: it is not advisable to make drastic action without thinking over the situation, it is wise to wait and to be patient. Best of all, always pray to God for wisdom and guidance; you'll never know the power of prayer. Fervent (powerful) prayers do change people, things, and events!
If  there's  one  valuable  lesson  I learned from my parents, it would be
(respect for my fellowmen) because: they said that trouble oftentimes go off when there is no respect for one another.
If I could pick my best friend in show business, it would be
(Ms. Kris Aquino) because: I perceive Ms. Aquino to be a true person, assertive of what she wants, although tactless at times, but as a friend, I believe she will fight for your cause.
If I could espouse or support a special cause, I would devote my time and effort to
(fight crimes against women and children but especially children) because: as children, they are helpless, and for the reason that they are young, they are powerless, weak and vulnerable.
If  my  life  had  turned  out  differently, I'd be
(in the foreign service, a diplomat, an attache or an ambassador overseas) because: that was my dream when I was younger, that was what I wanted to be.
If I could  run  for  an elective  office, I would choose to run for
(Provincial Board Member, like my husband) because: I believe I have the qualifications, I know the duties and responsibilities of a Board Member and I already have the idea of how to be one and how things are done in the Sangguniang Panlalawigan.
If I could settle in any other country for life, I would live in
(the Bahamas, I guess) because: Bahamians speak English, they are Christians, the climate is good, economy is not bad, and it is near the United States.
If I had enough money to build anything I wanted, anywhere I wanted, I would build
(a nice rest house with solar panels that could generate power for the amenities in it, with a green house by the side, in the middle of a safe forest) because: I want to enjoy a quiet vacation, enjoy nature tripping, and enjoy Mother Nature (the fresh air of mountain breeze, landscapes/greeneries, exotic fruit trees, flowers, butterflies, birds, cool waterfalls, pristine waters of brooks, streams, etc.), away from the hustle and bustle of dense and crowded, urban areas.
WOMAN OF THE UNIVERSE. First Mrs. Universe-Intelligence, Engr. Muriel Moral-Pandi (or Lala), on the cover of Women's Journal magazine, is shown beaming (smiling radiantly) in the Universe. Seen in her background are our home planet, Mother Earth, the stars, galaxies, and nebulas across the Universe...