They say it is the oldest surviving major international beauty pageant.

Sixty years of colourful history - intrigues, three dethronements, scandals, tradition, royalty - it's Miss World!

From a Festival Bikini Contest, the pageant has grown and attracts more than 100 countries every year!

Who will survive and be MC's Most Beautiful Miss World?




Note:
This is a personal list and mostly based on the threadstarter's taste.
In this list, dethroned MW winners in 1974 and 1980 are excluded. Marjorie Wallace competes as she is the official MW 1973 though fired.

And let's start revealing MC's Most Beautiful Miss World!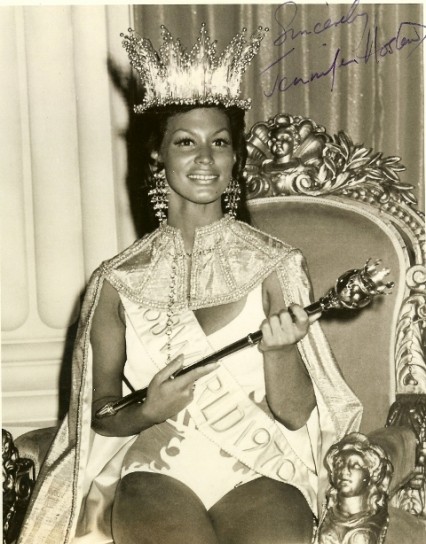 60. Jennifer Josephine Hosten of Grenada
Miss World 1970

The first black Miss World was crowned in 1970. Jennifer Hosten of Grenada made a controversial win - the Prime Minister of Grenada, Sir Eric Gairy, was on the judging panel - enough reason to cause speculations on Hosten's triumph!

In late 2006, Jennifer was appointed the National Director of the Miss Grenada World Contest.





59. Kaiane Aldorino of Gibraltar
Miss World 2009

Kaiane made history for her country - the first Gibraltarian to place in a Big 5 pageant and eventually win the crown. Perhaps the most bashed Miss World in recent years, still Kaiane is woman of poise and elegance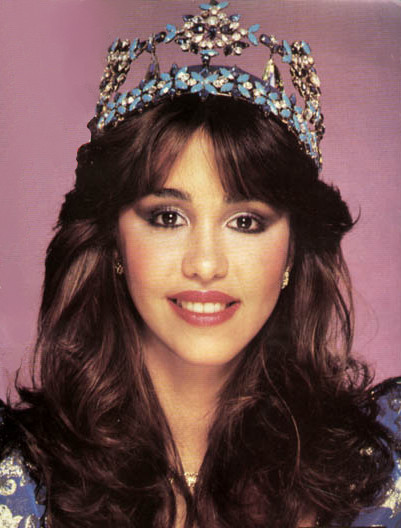 58. Mariasela Alvarez of Dominican Republic
Miss World 1982

Mariasela is the first Dominican woman to win an international beauty title. Pageant fans believed that United Kingdom or Finland should have won but Mariasela possesses great charm and personality that lead to her victory.





57. Lisa Hanna of Jamaica
Miss World 1993

Jamaica's third Miss World winner was also the first black winner of the island. Lisa Hanna competed in one of the best editions of Miss World. In 2004, Lisa migrated to the US to pursue a career in broadcasting. In the 2007 general election, as a member of the People's National Party, Hanna contested and won the seat for St. Ann South East.





56. Gina Marie Tolleson of United States
Miss World 1990

The second American Miss World was also Miss USA 1990 1st runner up. She won $19,000 in cash and a work contract worth $59,000.
The 21-year-old University of Georgia sophomore told reporters she would use the money to pay for a Jeep Cherokee she recently bought, do a little shopping and "just sit on" the rest.





55. Ulla Weigerstofer of Austria
Miss World 1987

Ulla Weigerstorfer, a veterinary student from Vienna, Austria, was crowned Miss World in the 37th annual contest beauty pageant. She said it was all like a dream. The 5-foot-11, blue-eyed blonde, the first Austrian to win the title since 1969, was chosen from among 78 contestants.

She was almost stripped from her title when her nude photos were released.





54. Julia Alexandrovna Kourotchkina of Russia
Miss World 1992

Julia Kurotchinka of Russia, a strikingly tall brunette, was chosen Miss World in a spectacular extravaganza in the African bush and became the first Russia Miss World. Eric Morley said it was the closest result in the pageant's 42 years. Ms. Kurotchinka beat her runner-up by one point.





53. Petra Susanna Schurmann of Germany
Miss World 1956

Petra was only third place in Miss Germany, but was chosen to represent her country because of her better knowledge of English. At that time she studied philosophy and history of the arts at the universities of Bonn and Cologne. After winning her Miss World title she continued her studies in Munich. Over the years since winning Miss World, Petra worked on more than 1000 television programmes in Germany as a presenter, moderator and talk-show guest.

She died on January 13th 2010.





52. Sarah Jane Hutt of United Kingdom
Miss World 1983


British fashion model Sarah-Jane Hutt started her one-year reign as the new Miss World modestly denying she was the world's most beautiful woman - and some disgruntled competitors agreed. To date, Hutt is the last British woman to win the title.





51. Norma Gladys Cappagli of Argentina
Miss World 1960

Norma Gladys Cappagli, a professional model measuring 36-23-36, was chosen over girls representing 38 other countries. She was the first woman from Argentina to win the title.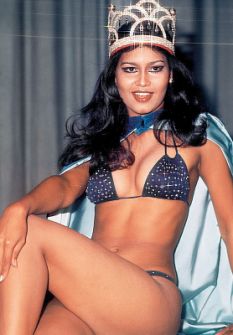 50. Wilnelia Merced of Puerto Rico
Miss World 1975

A surprised 18-year-old school student from a small village in Puerto Rico became Miss World 1975. She was chosen by a panel of nine judges - five men and four women - from a field of 67.





49. Kimberly Santos of Guam
Miss World 1980

Gabriela Brum resigned after 18 hours of her reign, and fourteen days later, first runner-up Kimberly Santos was crowned the new Miss World. Germany and Guam, Miss World queens, were born in the United Kingdom. Germany had a British father, while Guam had a British mother.





48. Alexandria Mills of United States
Miss World 2010

The reigning Miss World is the third American to win the title. Her placement in the two most important fast track events - Top Model and Beach Beauty, proved that she was one of the front runners.





47. Penelope Plummer of Australia
Miss World 1968

A tall, blonde librarian from Australia won the Miss World contest, ending a protest-marred pageant in which one contestant left for home. The first Australian Miss World received $6,000. Fees for personal appearances and endorsements could boost her winnings to about $72,000 for a year.





46. Carol Joan Crawford of Jamaica
Miss World 1963

Petite Carol Joan Crawford of Jamaica won Miss World in 1963. She won over 39 other girls from all parts of the world. Miss Jamaica was a popular choice with the huge crowd that jammed the Lyceum ballroom. When she was announced as the winner, the crowd wild with excitement.





45. Antigone Costanda of Egypt
Miss World 1954

Antigone is Egypt's only winner from the Big 5 and the first from and African nation.





44. Denise Perrier of France
Miss World 1953

Denise Perrier of France won the title of Miss World of 1953 in a close beauty contest over 14 other international beauties. Six judges gave the unanimous nod to Denise. She received $1,400 and a silver bowl. The girls were judged on sex appeal, dress, deportment and intelligence.





43. Giselle Jeanne-Marie Laronde of Trinidad and Tobago
Miss World 1986

Giselle Jeanne-Marie Laronde, a 23-year-old secretary from Trinidad and Tobago inherited the crown from Holmfriour Karlsdottir. Laronde, a brown-eyed 5-foot-5 secretary whose main interest is modeling, bested a field of 77 contestants.





42. Unnur Birna Vilhjalmsdottir of Iceland
Miss World 2005

The third Icelandic woman to win Miss World enjoys acting, singing, all types of dancing, snow-boarding, hiking, camping, horsemanship and has a special talent for choreography and playing the piano.





41. Linor Abargil of Israel
Miss World 1998

Miss Israel, an 18-year-old student who is expected to report for military duty in her country early next year, won the 1998 Miss World contest. Just seven weeks before being crowned Miss World, the then 18-year old Abargil was raped at knifepoint by Uri Shlomo, an Israeli citizen working as a travel agent.