WHO DO YOU THINK IS THE BEST

?



DONALD TRUMP

OR

JULIA MORLEY

?




======================================================================



JULIA MORLEY & HER QUEENS





Julia Morely with her charming reigning MISS WORLD from the biggest country in the world Ksenia Sukhinova of RUSSIA.



Julia Morley with her favorite MISS WORLD 2007 from the most populated country in the world & the home of 2008 Olympics Zi Lin Zhang of CHINA.



Julia Morley with her favorite blonde elected MISS WORLD 2006 from the Northern Europe region Tatana Kucharova of Czech Republic.



Julia Morley with her all time favorite MISS WORLD 2005 also from Northern Europe Region Unnur Birna of Iceland.



Julia Morley with her MISS WORLD 2004 Maria Julia Mantilla from Peru. It was the first time that the contest was decided by a global television/telephone/online vote.



MISS WORLD 2003 also from Northern Europe Rosanna Davison of Ireland, She is the daughter of famous musician Chris De Burgh.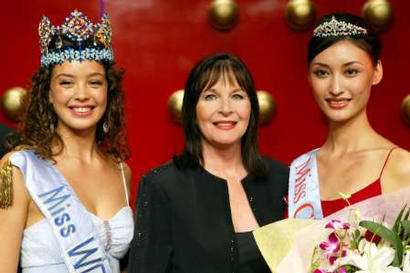 Julia Morley with her big time favorite Azra Akin of Turkey.



MISS WORLD 2001 Agbani Darego of Nigeria. Julia really loves her in fact the organizers of the competition began preparations to host Miss World 2002 in Nigeria.One week before the 2002 pageant, violence erupted in Kaduna and other cities in northern Nigeria after small protests against the competition inflamed simmering religious tension between Muslims and Christians. Several hundred died in the violence that ensued.



Back to Back victory..MISS WORLD 2000 Priyanka Chopra of India & MISS WORLD 1999 Yukta Mookhey also from INDIA. It was second time history in MISS WORLD that the contest won thrice in a two years row by one country. The native land of Julia's UNITED KINGDOM won back to back on 1964-1965 & Sweden 1951-1952.

Take Note: Julia Morley is the last one to call the WINNERS & Runners-up respectively.




================================================================================


DONALD TRUMP & HIS QUEENS





Donald Trump with His MISS UNIVERSE 2001 Denise Quinones of Puerto Rico



MISS UNIVERSE 2002 Oxana Fedorova (DETHRONED)



Donald Trump with his new MISS UNIVERSE 2002 Justine Pasek of Panama



Donald Trump with his MISS UNIVERSE 2003 Amelia Vega of Dominica Republic



Donald Trump with his all time favorite MISS UNIVERSE 2004 Jennifer Hawkins of Australia



Donald Trump with his 2005 Queens MISS UNIVERSE Natalie Glebova, MISS USA Chelsi Cooley & MISS TEEN USA Allie La Force



Donald Trump with his MISS UNIVERSE 2006 Zuleyka Rivera of Puerto Rico



Donald Trump with his favorite MISS UNIVERSE 2007 Riyo Mori of Japan



Donald Trump with his MISS UNIVERSE 2008 Dayana Mendoza from Venezuela & the reigning MISS USA Kristen Dalton



BACK TO BACK VICTORY.. Donald Trump with his newly crowned MISS UNIVERSE 2009 Stefania Fernandez of Venezuela & the outgoing MISS UNIVERSE 2008 Dayana Mendoza also from Venezuela.. It was the first time in a back to back history in the MISS UNIVERSE contest & Donald Trump also was the host for the introduction of pre-tape ceremony of MISS UNIVERSE 2009.

------------------------------------------------------------------------------------------------------------------------