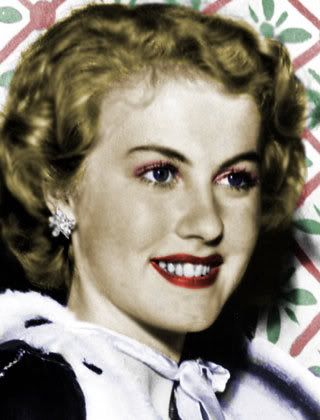 She is a Finnish beauty queen. In 1952 she won the national beauty contest Suomen Neito and was presented with a trip to the United States to participate in the first-ever Miss Universe pageant, becoming its first titleholder in history.
Early life
Kuusela's parents, Aarne Kuusela (father) and Martta Kyrö (mother) met each other in Ontario, Canada and later married there. Their first baby was born in Canada. After several years in Canada, they returned to Finland to settle in Muhos. Martta gave birth to five girls and one boy; one of the girls died when only two-and-a-half years old. Kuusela was born on August 20, 1934, she was the fourth oldest of the children.

She went to middle school in Muhos, and in 1951 she started attending the women's college in Porvoo. Kuusela liked swimming, skiing, gymnastics and after successfully completing her Abitur, she intended to apply to the University of Helsinki Gymnastics Institute.

Miss Universe
When Kuusela won her country's national pageant, Suomen Neito, on May 24, 1952, she was awarded a box of chocolates, a gold bangle, and a two-way ticket sponsored by Pan American Airways to the United States. On June 17, Kuusela took a flight to Long Beach, California and the first Miss Universe contest.

Thirty contestants participated in the first Miss Universe pageant in 1952. The pageant was held on June 29, 1952, and Kuusela, as Suomen Neito, captured the crown. At her crowning she was only 17 years old. At the time she weighed 49 kg (108 lb), and her height was 1.65 m (5 ft 5 in).

Immediately after her winning there was a Finnish movie made of her, called Maailman kaunein tyttö (World's most beautiful girl) where she played herself, and Tauno Palo acted Jack Coleman (opposite role). It was directed by Veikko Itkonen, with writing credits going to Mika Waltari.



_____________________________________________________________________



a beautiful 17-year-old girl from Finland was crowned (by Hollywood actress Piper Laurie) the first Miss Universe at a glittering ceremony at The Municipal Auditorium in Long Beach, California, with a court of honor composed of Hawaiiâ Elza Kananionapua Edsman (first runner-up), Greeceâ Daisy Mavraki (second runner-up), Hong Kongâ Judy Dan (third runner-up) and Germanyâ Renate Hoy (fourth runner-up).

Nobody could have imagined that Armi would become an adopted daughter of the Philippines when she married Virgilio Hilario. Their love story was immortalized in a movie entitled Now and Forever.




On March 9, 1953, nine months after she won the Miss U title, Armi was invited by the Philippine International Fair Committee to crown that year Miss Philippines. During her stay (until April 11, same year), Armi paid a courtesy call on then President Elpidio Quirino, Supreme Court justices, senators and congressmen; laid a wreath at the Bonifacio Monument; visited Maryknoll College (now Miriam College), UP, Ateneo de Manila, the Balara Filtration Plant and Baguio City where she met Virgilio through a blind date.

FACTS:

Armi was crowned Miss Universe in Florida 29/06/1952 strategisiet the dimensions were:

weight 49 kg
length of 165 cm
chest width 85 cm
waist 57,5 ​​cm
hips 85 cm
Life after Miss Universe

Marriage:


On February 22, 1953, Kuusela took a journey round the world, during which time she met a Filipino businessman, Virgilio Hilario. Less than a year later after being crowned, on May 4, 1953 Kuusela chose to give up her Miss Universe crown before her year was finished to marry Hilario in Tokyo. It was a whirlwind courtship. They met in March at a dance in Baguio, the summer capital of the Philippines. Miss Universe had gone to the Islands for the International Trade Exposition. They honeymooned in the Hawaiian Islands, toured the United States and then Europe,[1] before settling in the Philippines where they had five children:=

Arne Hilario, married with 3 children, lives in Chile

Anna-Lisa De Gari, married with 2 children, lives in Spain

Jussi Hilario, married, lives in Canada

Eva-Maria Hess, married with 2 children, lives in United States

Mikko Hilario, lives in the Philippines

Kuusela briefly managed the Manila apartment complex where she and Hilario lived before moving to an exclusive community called Forbes Park. Their house was on a road informally known as "Millionaire Street". She was also in one film in the Philippines around this time.
Armi Kuusela Williams and Albert Williams
Later life
Hilario died of a heart attack on September 7, 1975, and Kuusela married an American diplomat, Albert Williams, on June 8, 1978. First they moved to Barcelona, then to İzmir, Turkey before settling in La Jolla, a community in San Diego, California. As of 2011, she and her husband were still living there. She is still active in her community, participating in charities and involved in cancer research at the Sanford-Burnham Medical Research Institute.
Camay Beauty
[b]

THE END
[/b]
credits: [wikipedia, veestar]