Miss Intercontinental Trivia
by Nhes dela Cruz
Four down, three to go! And the next spot for 2015 goes to...Miss Intercontinental!
Huh?
Yes, you've heard it right, it's Miss Intercontinental.
Miss International, Miss Grand International, Miss Supranational and more recently, Miss Earth have already elected their winners and in less than a few hours, Miss Intercontinental takes the spot for the election of the "most beautiful woman of all the continents". For three consecutive years, Magdeburg (150 km away from Berlin) welcomes 64 candidates on the 44th edition of Miss Intercontinental on 18 December. Patraporn Wang of Thailand is passing the crown to her successor.
Miss Intercontinental may not attract the media coverage it deserves, yet it is one of the oldest and probably well-established institution for beauty events. Undergoing various versions such as the Aruban (1982 and 1983), Nigerian (1986-1990) and the German (from 1991 to present), it has also changed it's name to Miss Teenage Intercontinental to Miss Intercontinental. For pageant aficionados, let's check your knowledge of Miss Intercontinental.
Did you know that....
(1) ...Miss Intercontinental has probably
the most expensive crown
among all international beauty competitions? The crown is called the "Oriental Spirit of Holy Water" and has an amount of US$ 361,446. It boasts 720 diamonds and its design stands for the strength and power of woman of beauty which is right in the centre of the crown. Due to its value, it is kept at the WBO office and only becomes visible during coronation nights.
(2) ...
powerhouse countries
(in beauty pageants)
also dominate Miss Intercontinental
? The United States and Venezuela both share five victories followed by Brazil and Germany with three crowns each. While the "sash factor" phenomena is evident, Miss Intercontinental appreciates beauties from less-successful nations in pageantry too. US Virgin Islands had won in 1995 and Tahiti the year after. Iran, a Muslim country which is virtually invisible in any beauty competitions also has a crown in international pageantry after winning a Miss Intercontinental crown in 1975.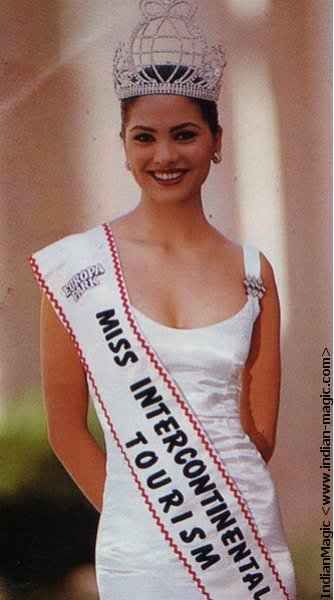 (3) ...Miss Intercontinental
has paved way to a brighter career to some of its winners
. For instance, Lara Dutta of India won in 1997 and is now a successful figure in Bollywood with over 30 commercially produced films. She eventually won another international competition in 2000 (Miss Universe). Like Lara, Germany's Verona Feldbusch (now Verona Pooth) has also become a national celebrity with eight films both local and abroad.
(4) ...Miss Intercontinental
select its semi-finalists in a different manner
. By this it means, the three best performing candidates from each of the five continents secure spots in the Top 15. While this allows regional and cultural diversity, this prevents other more deserving ladies to prove their worth on stage during the finals. For instance, Europe has always had the biggest contestant's share and only three of them can advance. In contrast, the African continent for instance may only have five (or even less) delegates and three of them automatically compete in the next round.
(5) ...like other competitions, Miss Intercontinental
is never free from challenges
. The last year's edition alone, issues with location and winner selection put the Miss Intercontinental organisation into a tough test. The pageant venue had been moved from Jordan to Germany few weeks before the event officially kicked off. Luckily, the German organisers were quick enough to put up a Plan B. And this beauty spectacle in 2014 was confronted with a further issue upon "a Thai in a tie". Instead of having only one Asian beauty in the Top 5 in last year's edition, Miss Philippines was suddenly joined by Miss Thailand, who eventually took home the title. While pageant fans from around the globe have had some serious disagreements with Patraporn's crowning, the statuesque Thai beauty is considered by many as elegant and beautiful.
(6) This year,
Philippines' Christi Lynn McGarry joins Miss Intercontinental for the second time
. In 2010, she won the Asia Pacific crown under the Mutya ng Pilipinas organisation. However, the lady who was supposed to compete for Miss Intercontinental that year was replaced by McGarry, who finished Top 15. Five years after, McGarry joined Binibining Pilipinas 2015 and her charm secured her the Bb. Pilipinas- Intercontinental title. Will she be luckier the second time around in Miss Intercontinental? (image of McGarry goes here)
So before calling out the last spots for Miss Universe and Miss World, sit back and enjoy the show in Magdeburg. Good luck girls!