Carranzar Naa Okailey Shooter - Miss Ghana World 2013
Carranzar Naa Okailey Shooter – beautiful, tall, stunning, and intelligent Ms Ghana is the torchbearer of the disfavored African continent. She is the only African among the winning circles of the Big 5 pageants in 2013. Is Africa really a victim of prejudice and unjust segregation or they just fail to deliver delegates worthy of placements? The lone black beauty in a roster of winners should matter.
MaGa Isler- Miss Universe 2013
MaGa Isler – A prime example of production with precision from renowned beauty queen factory MVO Human Computer Inc. (is a Venezuelan multinational corporation headquartered in Caracas, Venezuela that designs, develops, surgically-engineers, and sells Misso consumer queens, computerized pasarela software and personality enhancing computers). Fondly called MaGa or Molly she is the new innovation from MVO from its product line up tagged as iQueen 5s which promises to be sleek in stage performance in the evening gown, precisely crafted turns and sways in SS competition, and meticulously considered answers in Q&S portion. Maga delivered on point what is expected of her by the company's CEO, the forward thinking innovator Ozmel Souza.
Megan Young- Miss World 2013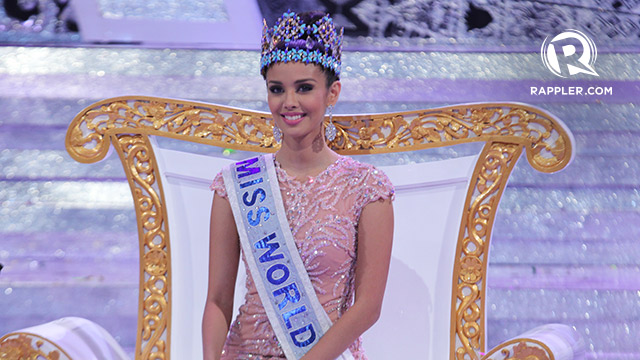 Megan Young – A prime example of "Once in a Blue Moon Queen" from Aces & Queens Inc. (a flagship subsidiary of MW Philippines Inc. run by enthusiastic but relevant fags who can't be queens themselves so they train queens to live their dreams for them). Au naturelle, regal, eloquent, and blessed with a face that perfectly blends exoticism and global marketability she was a favorite from the get go and won the crown with ease even though she won the national title just a few days before heading off to Bali. "I don't need much preparation to win" the bitch said, to which MaGa Isler raised an eyebrow and Ozmel Souza disagrees.
Alyz Henrich- Miss Earth 2013
Alyz Henrich – A successful hybrid product of iQueen 5s….this is iQueen 5c. She exuded lively interface and new features such as fresh young aura technology which the 5s model lacks sorely. Rumor has it that her victory was ensured by the company's CEO Osmel Souza by partnering with Venevision to buy the airing rights of Ms Earth 2013 in Venezuela. The deal was sealed but deal or no deal iQueen 5c Alyz Henrich was a sight to behold that night in the swimming pool. Good thing this iQueen model is engineered to be water proof. Innovation at its finest and so she won. Osmel wins the Best Performing CEO award by Harvard Business Review with two iQueens winning the global market.
Bea Santiago- Miss International 2013
Bea Rose Santiago- a pageant veteran from the challenger Kagandahang Flores Training Camp, she was a ran away winner last night. She is MI prototype from head to toe….beautiful, statuesque, and eloquent but Indian fans refused to agree and her victory added fire to the onslaught Pinoy-Indian pageant rivalry. The old grand dame Stella Zawadski Marquez de Araneta must be so proud of her being a Miss International herself a long long time ago. Bea is No product of MVO Human Computer Inc. but rumor has it that she had her nose done. Could this mean that Bb. Pilipinas is finally opening its arms to surgically enhanced beauties and shunning away from its rigid old world maxim?? Bb. Pilipinas 2014 is just in the horizon so let us wait and see.
Mutya Datul- Miss Supranational 2013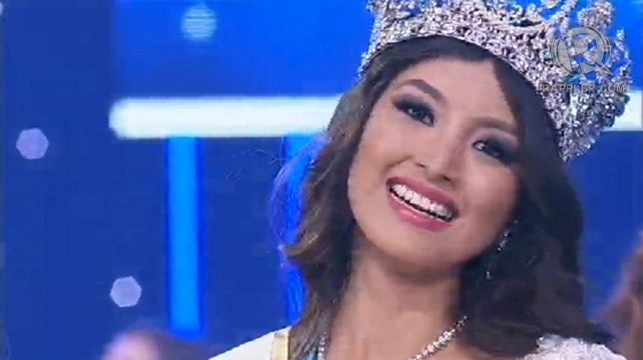 Mutya Johanna Datul – Everyone in pageantry hates the Philippines. Ms Supranational Org and Global Beauties don't sit well with promiscuous and rowdy Filipino fans but when the uber charming and innocently sweet Mutya was sent to Belarus they all fell for her charms. That made Mutya matters......more than the crown on her head.
Sobhita Dhulipala
Sobhita Dhulipala – the girl truly deserves to be up there. Witty, classy and pretty she has what it takes to be a finalist; she was after all the top crown contender for many misso beauty pundits including myself. Her exclusion made uproar among Indians and Pinoys….her unrequited determination and a clamorous exclusion makes her a delegate who matters. And she mattered more with her gracious acceptance of defeat…..that's how a queen should be.
Lucia Aldana & Ms Bahamas (Lexi Wilson)
Lucia Aldana & Ms Bahamas (Lexi Wilson) –
"Certain people, in their eagerness to construct a world no external threat can penetrate build exaggeratedly high defense againts the outside world, againts new people, new places, different experiences and leave their own world stripped bare. It is there that bitterness begins irrevocable work."
― Paulo Coelho, Veronika Decides to Die
Their performances were less than stellar and when they open their mouths….havoc followed.
Hardbound copies of books titled Lucia Decides to Die and Ms Bahamas Decides to Die are sold out in Missosology after the Miss Universe 2013 competition. The books were co-authored by acclaimed basher Wings and Androgynous "Model" Madame Monish D of India.
Whulandary
Whulandary – she was touted as the Asian who will finally trample the Philippines dominance in carrying the Asian Pride in Miss Universe. It was not an all out success but getting into the top 16 was a BIG success story for Indonesia. It is more than enough. She matters because SHE is my sentimental favorite among ALL queens of 2013. She represented authentic malay beauty in all its splendor but more than that it was her personality that captured my heart. When Indonesia was called in the top 16, it brought so much joy in my heart. Whulandary is splendid!
Ara Arida & Monic Perez
Ara Arida and Monic Perez – If hollywood had the Marlene Dietrich vs Greta Garbo rivalry..Miss Universe 2013 had the Ara vs. Monic rivalry down to their fans. It all started with Ara making a faux pas on national tv about Latinas and Monic riding on the bandwagon and "fighting back" with her all English Show off Speech. How sweet is that? While Ara is subdued Monic is attention-grabbing all the time.While Monic is vibrant Ara is haggard-looking at times. Ara's asian grace combined with Monic's latin fire were perfect recipes for a catfight among promiscuous Boricuans and indiscriminating Pinoys. Miss Universe 2013 will never be the same without these 2 ladies. In fact Miss Universe 2013 will be remembered for the Boricuan-Pinoy Rivalry. Ara and Monic matter more than MaGa for me.