After the recently concluded Miss USA 2012, people had entertain different speculations such as Miss Universe is changing the trend in choosing their winners.

As we noticed, there were tall glamazons who made it to the finals and there were those who were not so tall and yet penetrated and made it to the cut.




Even the eventual winner (Olivia Culpo) is NOT that tall and we saw some different reactions from people who embraced the saying "Height is MIGHT".

Is the trend really changing now?
Remember in 2010, the not so tall Ximena Naverrete was crowned as compared to previous glamazon winners at Miss Universe.
But Ximena exudes beauty beyond compare.




The same as in 2011, most NOT so tall women made it to the cut.




Was this as indication that Miss Universe is now catering with such market that are not so tall yet exudes goddess-like beauty? Hmmmm...

I can't help but wonder and look back.
In Miss Universe, just like fashion, one day you're in and the next day you're out.

ASIANS indeed had witnessed the many changes the world of pageantry had, especially at Miss Universe.

We saw the DOMINATION of India in the 90's, placing year after year after year and even producing two (2) Indian winners in a lifespan of 6 years. WOW!

Filipinos, despite of being a fanatic, felt the awful drought from Miss Universe as well. We also witnessed Japan's BIG comeback.







On the 10th edition of my UNOLOGY, I will be focusing on the rise and fall of 3 Asian powerhouses-
India, Japan and the Philippines,
as they welcome the up and coming powerhouse from Asia - CHINA.




Last year, China made it big and drew so much attention via Luo Zi Lin (4th runner up) and the aggressive team from China lead by their National Director Yue-Sai Kan (media icon/entrepreneur).





Is China all set to conquer the Universe in years to come?






Incredible INDIA




"Why is India on a losing streak? Aren't they pretty anymore?"

The concern was about the drought of Miss World and Miss Universe crowns for Indian women since 2000.
Does this mean Indian women are not the most beautiful in the world?




Last year, Indian girl Vasuki Sunkavalli missed the crown at the Miss Universe pageant.
Another year gone and another opportunity lost.

While some say changing selection criteria affects choice of winners, others feel the contestants are not groomed enough to represent the country on a global platform.

There are people who thinks that the pageant could be biased because such pageants want to "woo" different countries at different times. So a few years back it was India and, now it's a different nation.

An Indian grooming expert Meher Bhasin feels another reason for losing out is that Indian girls lack confidence.

He believes that pageants are now totally based on a country's economy and also which is a growing market. And the Miss Indias are not the top quality of girls they used to have. He felt they lack grooming skills; as a result they don't reflect the confidence needed to win the crown.

It has been a decade-long dry spell for Indian beauty queens.

Sushmita Sen was the first to win the Miss Universe title in 1994 and Lara Dutta was the last Indian to triumph at the pageant in 2000. In 1994, Aishwarya Rai became the second to bring home the Miss World title while Priyanka Chopra was the last to win it in 2000.





Imagine, out of seven (7) Asian winners of Miss World, five (5) was from India.

Till 2009, the Femina Miss India title holders participated in the Miss Universe pageant, but since 2010 Sushmita's organisation, I Am She, has been choosing India's official entry for the Miss Universe. Their first candidate was Ushoshi Sen Gupta who couldn't even make it to the top 20.

It was also pointed out that Indian girls nowadays are not motivated enough as they have many other lucrative career options.

Nowadays, Indians should also check whether Indian contestants are enthusiastic enough to participate, as girls are searching for many different avenues like television and modelling which sound lucrative; so they never consider going for beauty pageants to get name and fame.

It was brought up in the open that success at the international beauty pageant also depends upon the selection criteria, which keep changing every year.

There are some criteria which are required for a contestant to represent her country at the Miss Universe Crown and these keep on changing every season. For example, earlier male models with a healthy body were in demand for the runways, but nowadays designers are looking for lean body.

So the jury for the Miss Universe may have their own specific criteria for selecting contestants.


Nicole Faria, the only Indian to have ever won the Miss Earth title, says there is no favouritism at international pageants. She believes the problem lies in the selection process at home.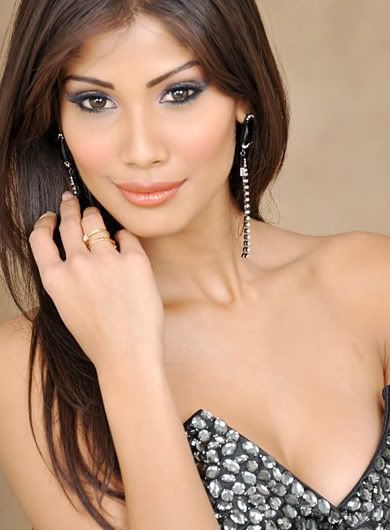 She added that the excuse is that there is favouritism or that the pageant organisers want to promote some countries. In her opinion, that is not true as every pageant would like to ensure that they are fair and appear that way. Nicole Fraia think that the problem exists in how they choose the winning girls from India.

Well, that is another story to tell I guess.

Some Indians have accepted the fact that "time" is not favouring the Indian girls unlike a few years ago when they were on a winning spree.

In the end, most Indian pageant fanatics concluded that it's not that their girls are any less better looking.

The degree of beauty is the same and it's just that India at that point of time was hot on the international market.

Some other country is in India's shoes and their Indian girls remain beautiful.






A TASTE of JAPAN




Well, as India had its decline, Japan made a huge comeback.

Well atleast in the past decade, Japan's Samurai made it to be a "cut-throat".





After it's successful 4th runner up placement in 2003 through Miyako Miyazaki, Kurara Chibana showed the Universe what a real Japanese woman is truly made of.

And just after Kurara's "almost" win, in 2007 Japan got it's 2nd Miss Universe crown after decades of drought. Imagine, they first won Miss Universe in 1959 via Akiko Kojima.




I read from an article before that a group of beautiful young girls enter a studio, all sharing dreams of glamour and world stardom.

And then a stern Frenchwoman enters the room, and to their "horror", the first words out of her mouth are: "Okay girls, off with your clothes, I want you in your underwear. Right now."




This is not a scene from a bordello in the sex trade, but it is an annual event in Japan's new beauty queen factory. When she was still directing the Miss Japan Universe Organization, Ines Ligron has ordered young Japanese women to strip, walk tall, free their inner woman and wear lots and lots of makeup in an effort to seriously compete in the Miss Universe beauty pageant.





And indeed, they competed fiercely and change how the world would look to a Japanese girl who used to be very timid and shy.
The contest, long monopolized by Latin America's goddess industry, had seen three of Ligron's frightened girls making it into the top five with flying colors.

Ines Ligron's was indeed successful in her job as she was able to create world-class beauty queens out of young Japanese women in a country that favors smallness over voluptuousness, reserve over unrestrained confidence, and a demure smile over a sparkling grin.





During her interview way back, she mentioned that when she came in 1997, Miss Japan was run by a broadcaster, and had turned into a show by men, for men. And with the backing of the Trump Foundation, she then hired an all-female staff to refashion the tacky swimsuit contest into a lucrative entertainment business — which aimed at nothing less than winning the title.

"The first thing that struck me was — I have to liberate these women!" she says.

In 2008, Japan still managed to penetrate in top 15 but from 2009 til 2011, Japan lost the spark.





Was it because, Ines left the Miss Universe Japan Organazition?

From Ines blog, she uttered some words describing how it works in the Miss Universe and I quote...

"There are always many political reasons for having girls just cut out from Miss Universe choice at the end. Ask last year winner Stefania Fernandez what happens behind the scenes. She can tell you…. and a few other winners as well.

This is why I decided to start my own worldwide competition earlier this year. A concept where no political or business decision will ever come across the results. Stay tuned.

I know…. It is only a superficial beauty pageant most might say, but behind the scenes there are so many people involved with honest and high expectation, (natonal directors, local organizers, country licensees, coaches, designers ect…) that it hurts when you feel robbed and you cannot say anything because you will hurt yourself furthermore anyway.

I am sooooooo glad not to be part of it anymore….. being a spectator and having a free voice now is the best feeling in the world.' - Ines Ligron









Is it MORE FUN if it is Miss PHILIPPINES?




Is it really MORE FUN if it is Miss PHILIPPINES? Well, expect it to be trending worldwide.
Well, putting a Filipino or a Filipina in a show or contest will definitely be a hit as you clearly have a free ride in making such big fuss.

Even Ellen DeGeneres made such comment about this.



In the Philippines, beauty pageants are no longer just beauty pageants. Believe it or not, beauty pageants have become a significant part of the Filipino culture. It is probably true that there are no other countries in the world that hold as many beauty contests as the Philippines.

In this island nation, the 'Miss' contests are considered important social functions whereby beauty queens are admired, respected and treated like stars wherever they go.

Today, it feels like Philippines had finally found its way back to Miss Universe after placing a back to back top 5.

Just like Japan, shall we expect a crown for the Philippines anytime soon?




As it's a known fact that Philippines then was reigning to be the powerhouse of Asia, it is inevitable not for Filipinos to ponder, what went wrong during it's 10 year drought at Miss Universe?

Who shall they blame?

Was that a case of wrong placement as Binibining Pilipinas is the one responsible in selecting "who's who" and who is competiting
to Miss Universe, Miss World (not until 2011) and Miss International?

Was it the styling? the gown worn? Or let's face it, perhaps it was not really Philippines time to shine again.

Well, it might have been a decline at Miss Universe but last decade, the Philippines had a good year at Miss World after placing from 2002 til 2005.

Also last decade, Philippines earned two (2) crowns, Miss International 2005 via Precious Lara Quigaman (Philippines 4th MI crown)
and it's very fisrt Miss Earth crown for the whole of Asia via Karla Paula Henry.

But, has the Philippines finally found it's right track back at Miss Universe?
Or will it be again a case of "a hit or a miss"?

Why after 39 years Philippines still fails to win the prestigious Miss Universe pageant?

Miss Universe 1969 Gloria Diaz said that more than being a competition of who is the most beautiful or the smartest, Miss Universe is also about "luck."





"Everybody has things to say but like I've always said, first of all you will not be there if you're not beautiful, if you're not smart, if you're not tall or pretty. But I've told this over and over. It's 99% luck. Everybody has an opinion why she did not win, whether the answer was good enough or not good enough. To some people it was smart, to some people it was not enough. But really it's just luck at the end of the day," she added.

So where is the Philippines heading?

Now that Philippines seems to have 'IT' once again, will it finally have it's 3rd Miss Universe crown soon?

Or just like the handover of India to Japan and now Japan to the Philippines, is it rightful to say that the next big thing in Asia is China and sooner or later Philippines (if they become careless again) will lose the momentum and will be snatched by China in a snap?

Well, only time can tell.

Miss China 2012 will be held in September and they decided to further expand their program to ensure a wider and longer nationwide exposure to for their national sponsors through a longer period of regional auditions.

Shall we expect something big from CHINA this year?






Definitely MADE IN CHINA: Yue-Sei Kan - The Crounching Tiger





Most pageant fanatics predicted that a new Asian powerhouse is set to conquer the Universe.
They are reffering to China. Well, with its big population, indeed, China is a BIG market for Donald Trump to navigate. And as expected, he is doing it just well.

The President of the Miss Universe Organization Paula Shugart said last year: "We could not be more excited to partner with the woman we believe to be China's greatest beauty expert. With Yue-Sai's efforts, we hope the world will see the first Miss China Universe of which all of China can be proud."





Miss Universe China named cosmetics queen and entrepreneur Yue-Sai Kan as director of the pageant in that country. Her appointment was highly regarded by Donald Trump, business mega mogul and co-owner of the Miss Universe pageant along with NBC.

Well.... Mirror, mirror on the wall are beauty pageants "un business" after all?

Yue-Sai Kan is often seen with the towering and shapely Luo Zilin (Miss Universe China 2011 and Miss Universe 2011 4th RU), who under her careful tutelage, has become part of Yue-Sai's plan to bring Chinese beauty and the best of China to the world.

Without question, she has become China's de facto East-West ambassadress and country spokeswoman.

Like a Tiger Mom with her neverending list of impossible-to-reach goals for her daughter, she constantly looked over the shoulder of Miss Universe China, Luo Zilin, and made plans for every step she will make.

For a year now, she is on a mission to produce a Miss Universe for China. Last year, she kept her protege by her side, putting her up in her fancy New York apartment, teaching her how to mingle with socialites, and helping her widen her horizons to land that big crown.




We all know how that effort turned out. Luo Zilin made it to the top 5, and was named fourth runner-up. It's a very very respectable result, but clearly, Yue- Sai Kan is NOT happy, and she's not stopping there.




In fact, she already got her next roadmap for Luo Zilin all set up and ready.




She mentioned that first Luo Zilin will shoot with the Kardashians, then they will help her break into the U.S. market... She would like to try to place Luo Zilin in some television shows, a magazine like Sports Illustrated and maybe something like Victoria's Secret.




In her interview with the WSJ, Yue-Sai Kan also took the opportunity to slam the question that Isabeli Fontana asked Luo Zilin in the make-or-break final question segment:

"Nude beaches are common in some parts of the world. Is public nudity appropriate or inappropriate and why?"





Yue-Sai Kan fumed about it and said it was a stupid question to begin with. She even asked "How do you answer a question as inane as that?"

In the next split second, though, she snapped back into her Tiger Mom mode while making a pitch for her training regimen, she said that Luo Zilin was an ordinary model girl from Shanghai and they made her an international figure.



They changed her in New York. And she don't know how she could have trained her better.




When she was asked what ultimately killed Luo Zilin's chances to land that crown, she sighed and repeated her usual refrain:

"Maybe her answer was too Chinese."

So what's next for China in 2012?

In her lecture last February this year, Ms. Yue-Sei Kan explained that the Miss Universe competition is the largest and most watched beauty pageant in the world. About 90 countries participate each year, and the televised programme draws in 1 billion viewers in 190 countries.





She told the audience that in the past, the Chinese contestants did not do very well in Miss Universe, and she became involved in the pageant

because she was determined to turn China into a strong competitor.






During her presentation,she also shared details about the Miss Universe business model. Income is generated from regional auditions and from sponsorships. She explained that Miss Universe also acts as an agent for the finalists, putting them in films and advertisements. Media partners have been crucial to the growth of Miss Universe, and maintaining a presence on social media has also helped to grow the brand. Ms. Kan mentioned that Touch Media in Chinese taxis has become a particularly powerful advertising tool.

Miss Universe China Lou Zilin then came to the stage to share her experiences of participating in Miss Universe.




She explained that the intensive training programme that she underwent as a finalist has given her great confidence, and that public speaking now comes naturally to her.

As a known fact, Miss Universe Organisation supports many charities, such as the China Beauty Fund and Operation Smile.

Yue-Sai Kan stressed that she believes beauty should be used to help those in need.

When she was asked whether she had faced any difficulties or challenges and how she had survived them, she responded that money had never been a problem—people are very willing to invest in a good business proposal.

For her, human resources have often been challenging, and this is an area that needs more support.

She is optimistic about developing her brand in China though.

As she commented:

in China, there are no shortage of business opportunities.



Thus, sooner or later, SHALL WE EXPECT THE VERY FIRST CHINESE WOMAN TO WEAR THE MISS UNIVERSE CROWN?

For the record, no entrant from China, including Hong Kong, has ever won the Miss Universe competition.

The best ever contender was Zhuo Ling, Miss China 2002, who was second runner-up. For the best showing before that, you'd have to go back to Judy Dan, Miss Hong Kong 1952, who was third runner-up at the very first Miss Universe pageant.

Well who knows, in 2012, it can be CHINA.




Why Asians Do Not Win Miss Universe Titles More Often?




One answer to this inquiry is:
It is subjective as a large part depends on who is on the judging panel and the host country.

The judging panel played a crucial role as we all know. The preliminary pageant jurors was given that difficult task and the result will be determinded depending on their taste level.

Well, does it help a lot if the event was hosted in your country?

I dont think so. There were occassions wherein the host country failed to make the cut.

In 2005, for the very first time, the Big Four was all hosted in the ASIAN SOIL.
(Miss Universe - Thailand; Miss World in China, Miss International in Japan; Miss Earth in the Philippines)




Thailand hosted that said event and yet failed to make the cut. That year, only 2 Asians made the cut - Elena Ralph (Israel) and Artika Sari Devi (Indonesia).

Though yes, Asians had a strong showing in the pageant in 2000, when India's Lara Dutta won.
In 2007, Japan's Riyo Mori took the crown, while Korea's Honey Lee came in as third runner-up, and India's Puja Gupta made it to the top 10.

But another tide began to turn in 2008 in Vietnam, when South Americans dominated the top spots. Still, two Asian faces were in the top 15 - Japan's Hiroko Mima, and Vietnam's Nguyen Thuy Lam.

In 2009, it was a TOTAL BLACKOUT!




Despite a strong showing in online voting, Indonesian Miss Universe candidate Zivanna Letisha Siregar didn't figure in the beauty contest's top 15 in that said edition.





In fact, no Asian faces graced the pageant's top 15, though the Miss Congeniality title went to Miss China, Wang Jingyao, while Miss Thailand, Chutima Durongdej, got the Miss Photogenic title.

In 2010, the only Asian to carry the ASIAN Flag was Philippines' Venus Raj. And this goes to the second answer to why Asians failed to win at Miss Universe.





As they say, you need to be trained in handling pressure especially in the Q & A potion. In particular when answering questions (even if you can do it in your own mother's tongue) - your personality and sincerity should shine through, and that can be honed and trained.

People agreed, Venus had it in the bag until her "major major" fall out.

Lastly, the thrid answer to why asians failed to win Miss Universe is the fact that Asians are at a disadvantage because most of the judges grew up with the Western beauty framework.





Some people would refer the word "beautiful" with names as such Marilyn Monroe, Audrey Hepburn, Liz Taylor, and Grace Kelly.




Some were brought up that their standard of beauty is comparable with the like of Jennifer Lopez, Charlize Theron, Penelope Cruz, Jessica Alba, Megan Fox, Scarlet Johanssen, Angelina Jolie, Elle PacPherson, Halle Berry, etc.

These names roll off their tongues, and even with our tongues.





If we were to ask the judges who they think are the famous pretty women, they would be very hard pressed to name beyond Freida Pinto, Zhang Zhiyi, Aishwarya Rai, Maggie Cheung and not even Tia Carrere, (the daughter of Filipino parents- Audrey Duhinio Janairo and Alexander Janairo,) who made it big too in Hollywood.




As some people may agree, it was said that the entire mindset was slanted already from the start.

How true?





As they say, the secrets to winning remains the same regardless of the many changes in trends that we witnessed.

The essence of most, if not all, beauty pageant is to celebrate the totality of a woman.

Sadly, a lot of these contests have evolved into businesses in which the main aim of such spectacles was to generate profit, thus leaving the naïve, if not trusting candidates, as pawns for these income-generating activities. It is then expected that these competitions are repeatedly dubbed as exploitative. In turn, we gradually lost faith in the credibility of these and thus overlooked the real spirit that should be epitomized in such.

Though some people says, politics may be involved as in the end, just like Miss Universe, it is still business after all. And obviously Donald Trump is successful in making buzz as such.

I know for a fact that changes will always be inevitable in beauty pageants. As what I've mentioned earlier, what is in today may not be in tomorrow.
And while we are still "in" it, I guess it is a goal for us to "win it".

Well, "striking while the iron is hot" is not just a saying for India and Japan afterall.

They have share it's own "rise and fall", yet, both countries managed to have a crown.

Well, now I believe this is a tough call for the Philippines to win a crown soon as they can't afford to lose it's momentum.
In the end, it is undeniable that beauty pageants are one of the most celebrated hypes for Filipino fans today, and seeing another Filipina wearing the Miss Universe crown is like dream come true, wherein just like in a fairytale, they can finally live happily ever after.






UNOLOGY previous posts:
SEASON 1 - UNOLOGY
UNOLOGY Season 1 previous posts:
1st Issue:
UNOLOGY: CAMPFIRE'S BURNING -Philippine's Beauty Queenmakers
http://host.missosology.info/~missyorg/ ... 1&t=133638
2nd Issue:
UNOLOGY: Pageant CROWNING's INTERESTING FACTS
http://missosology.info/forum/viewtopic ... 1&t=134213
3rd Issue:
UNOLOGY: The MOST UNFORGETTABLE "ALMOST" Winners
posting.php?mode=edit&f=1&p=2682079
4th Issue:
UNOLOGY: There is SOMETHING about the EVENING GOWN
http://missosology.info/forum/viewtopic ... 1&t=135122
5th Issue:
UNOLOGY: In Search of a GREENER PASTURE...
viewtopic.php?f=1&t=136211
6th Issue:
UNOLOGY: The SEVENTEEN ONE HIT WONDERS OF THE UNIVERSE
http://missosology.info/forum/viewtopic ... 3&t=136622
7th Issue:
UNOLOGY: MY TAKE ON MISS PHILIPPINES EARTH 2012 FINALS
http://missosology.info/forum/viewtopic ... 1&t=136739
8th Issue:
UNOLOGY: The LUSTER of the CROWN & the PRICE of FAME
http://missosology.info/forum/viewtopic ... 1&t=136764
9th Issue:
UNOLOGY: IMPERFECTION GUARANTEED (Beauties Under the KNIFE)
http://missosology.info/forum/viewtopic ... 1&t=137269
10th Issue:
UNOLOGY: The RISE and FALL of ASIA
viewtopic.php?f=1&t=137994
11th Issue:
UNOLOGY: ISN'T IT IRONIC?
http://missosology.info/forum/viewtopic ... 1&t=138422
12th issue:
UNOLOGY: One Word - EPIC!
http://ns1.missosology.info/forum/viewt ... 1&t=138825
13th Issue:
UNOLOGY: The QUEENLY and RICH (Miss World Philippines 2012)
http://missosology.info/forum/viewtopic ... 1&t=139151
____________________
SEASON 2 - UNOLOGY
UNOLOGY Season 2 previous posts:
14th Issue:
UNOLOGY Season 2: TEAM Philippines 2012
http://missosology.info/forum/viewtopic ... 1&t=139987
15th Issue
UNOLOGY Season 2: OASIS of the Desert
http://missosology.info/forum/viewtopic ... 1&t=140333